"In West" Roundtable Dialogue: Strategic positioning under the macroeconomic landscape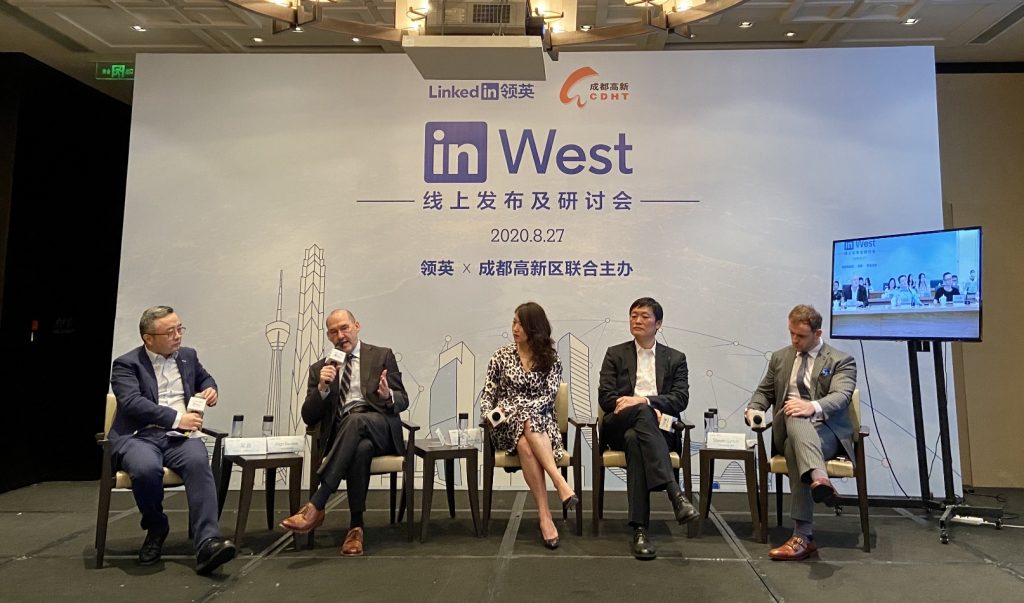 2020 is destined to be a year of a historical turning point. For entrepreneurs, how to adjust their business strategy to proactively respond to a crisis, and how to seize the opportunities to innovate and accelerate the digital transformation in their organizations have become the top priorities moving forward.
On August 27, 2020, Chengdu Hi-Tech Zone and LinkedIn jointly held an online conference and seminar entitled "In West" in Chengdu and Beijing. During the roundtable forum, Alibaba, Cocoa, IBM, Representatives from LinkedIn, China-Europe Chamber of Commerce, China-US Chamber of Commerce, and China-British Chamber of Commerce conducted an in-depth discussion on issues such as strategic planning, Chengdu's development potential, and future development opportunities under the unusual macroeconomic situation.
The following are the highlights from the roundtable forum.
---
1. What are the impacts of the post-epidemic era, globalization, and digital transformation on all parties
Alan Beebe (President of the American Chamber of Commerce in China): To be honest, in the past or the upcoming four years, I think business investment and trade are still our top priorities. For the topic of national security, each country has its own understandings. We are not experts on this topic, but we strongly encourage the governments of both countries to narrow down the scope of national security, in other words, don't put the business in this scope (national security). For business investment, we hope to talk about these topics openly.
When it comes to the epidemic, Sino-Western relations, and technological development, it is inevitable to feel both sides of a coin. Putting this aside, we have noticed that many companies that have been in contact with China for decades or are based in China are doing the same thing: re-evaluating their global strategic plans and considering their corporate role in China. The monthly report on the Covid-19 pandemic is shocking. Many companies are still waiting and watching their future development. From an investment perspective, it is difficult to make decisions this year, but even in such a crisis, we believe it consists of some very important opportunities and China is unique in this mist.
Pan Xinchun (General Manager of the Strategic Development Department of Alibaba): From the perspective of Alibaba, we have really encountered a challenge similar to the Covid-19. It first began with SARS 17 years ago. Taobao was just founded in 2003. At that time, we had 500 people. One employee was infected with SARS and the entire company was quarantined. All employees moved home to work. In 2003, the company was interrupted. The challenge was very great. At that time, the company expected to go online. Over the years of development, the entire Alibaba was online on November 11th (Shopping Festival) last year, regardless of the office, management, and transaction systems.
This time, Covid-19 definitely has caused some influence on us (Alibaba), but it is more about how we can help businesses and individual users on the platform to grow better. I remember when Covid-19 just started in February, Director Yu Hui of the Chengdu Hi-Tech Zone Management Committee came to the Chengdu office to investigate the resume of work and production. In fact, Alibaba has never stopped its production. From this epidemic, we can see that those companies that have recovered well and were less affected by the pandemic are those that have done a good job in digitalization.
Steven Lynch (Executive Director of the British Chamber of Commerce in China): Personally, I have never thought of meeting in an online meeting environment. The epidemic has prompted some new situations. Looking back on the relationship between China and Great Britain in the past, the trade between the two countries has made the two countries closer, which is very important for both of us. The epidemic has repositioned globalization. We hope that in the future, we can put more effort into cultivating a closer and more rational relationship in the supply chain industry.
Massimo Bagnasco (Chairman of the European Chamber of Commerce in China): The epidemic has brought many negative effects, and we realize that more work must be done in all aspects. In addition to paying attention to commerce, you can also expand your horizons to the financial market, because the financial market is a very important liquid market, in order to stimulate economic development and economic activities in all directions.
I also hope that China will set its sights on the European market, pay attention to the positive role of the European market in the supply chain, and help China develop in that direction. For the development of Chengdu, I see great importance in the service industry, especially for most EU companies. Most member companies offer digital service solutions. Therefore, it is important that EU companies can find cooperation opportunities in the service industry in Chengdu.
Zheng Jun (General Manager of Global Information Technology Services Department, IBM Greater China): From the perspective of IBM, the entire market environment has changed and will change greatly after 2020, specifically in accelerating global digital transformation, leading to new business models in various industries around the world. The challenges that drive various industries to embrace digital transformation are the changes we have seen in the industry itself.
Under the dual impact of the epidemic and the economic environment, companies have accelerated the process of digitalization. The demand for economic growth has been suppressed to some extent in the epidemic environment, and some requirements for management especially cost control, are substantial growth. From the perspective of IBM's business, we have felt the impact of the epidemic on digital transformation and on enterprises.
2. Chengdu is the starting point of the Southern Silk Road. How do you judge its potential?
Pan Xinchun (General Manager of the Strategic Development Department of Alibaba): In his speech just now, the deputy mayor of Niu Qingbao mentioned that 301 Fortune 500 companies have invested in Chengdu, 60% of which are in Chengdu High-tech Zone, this is a very remarkable achievement. Next, I may make personal suggestions from two aspects. The first is how to develop these companies that have settled in. I think this is a problem that needs to be considered. Chengdu cannot just attract new companies to settle down, it has to also ensure the first batch of companies a healthy growth. Secondly, how to help the government or companies through digital transformation and improve the business environment through technological means, more so in the current business environment. In the cases of individualization and differentiation of needs and demands, traditional thinking methods might be difficult to meet the requirements of enterprises in this new business environment.
Steven Lynch (Executive Director of the British Chamber of Commerce in China): Chengdu is a rising first-tier city in China. In the past 40 years, we have seen the dividends of reform and opening up, especially under the Chinese government's orders and prohibitions. Followed by Chengdu's innovation, the development of infrastructure, logistics, and transportation, high-tech talents, etc. Chengdu is constantly making progress. Finally, there is a bridge between Chengdu and Chongqing. In some areas, we need such talents. They can settle in Chengdu or go to work freely in the surrounding areas (Chongqing), we value this unprecedented growth, so we believe that the city of Chengdu has the first-mover advantage in the surrounding areas.
Massimo Bagnasco (President of the European Union Chamber of Commerce in China): Thank you very much for providing us with such a good seminar today. From the perspective of the European Union Chamber of Commerce in China, we believe that China has achieved remarkable results in reforming and opening up. We have done a survey before. Among the 74 member companies, 10% of the large companies have settled their core businesses in Chengdu. Some small and medium-sized companies have also begun to think about relocating to Chengdu. We believe Chengdu will become another opening of the EU Chamber of Commerce in China.
Secondly, the development of Chengdu in recent years is also obvious to all. The double 4F airport, "park city under the snow mountain", high-tech talents, convenient trade market, and other factors constitute a new Chengdu.
Liu Wenwen (Founder and President of Chengdu Cocoa Animation): Chengdu is a very pleasant and comfortable city, but also a very tolerant and open city. In history, many non-Chengdu or non-Sichuan celebrities have made contributions to Chengdu. For example, the well-known Wuhou Temple was built to commemorate Zhuge Liang, there are also Du Fu Thatched Cottages in memory of Du Fu, the saint of poetry, and the Second King Temple in Dujiangyan to commemorate Li Bing and his son. It should be said that these are the evidence of what an open and inclusive city Chengdu is, as well as its people.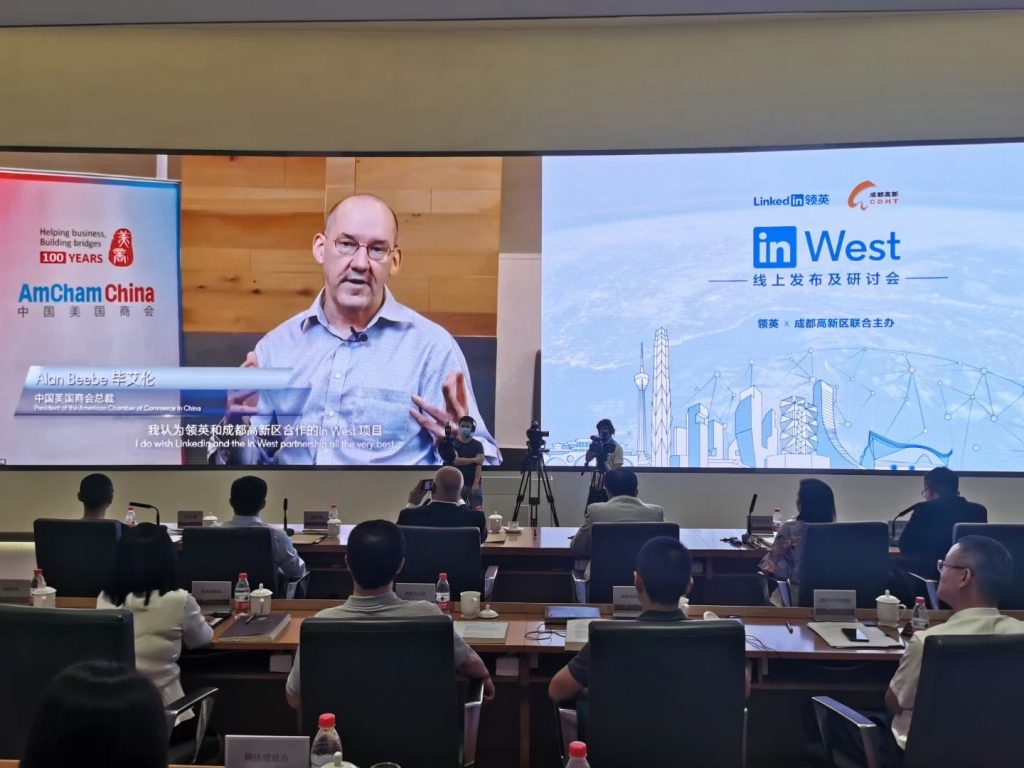 3. Under the macroeconomic situation, how do you view the opportunities for Chengdu's future development, or what suggestions do you want to give for Chengdu and Chengdu Hi-Tech Zone?
Alan Beebe (President of the American Chamber of Commerce in China): Chengdu is a very important international market. When connecting with the world, in addition to bridging the data gap, there are three more important points: first, service, how to use low-cost talents, and a good business environment to create more added value. Secondly, the improvement of software and hardware. At present, Chengdu is very advantageous in attracting foreign investment in the same type of market in China, but if you want to climb into a higher value-added industry, it must be based on a global perspective, not just local advantages. Thirdly, brand-building, how to promote the brand is currently a major difficulty facing Chengdu. We know that the food in Tianfu Sichuan is very delicious. I think this is not a single experience, but a "people-oriented" approach—first, gather the popularity and then combine that with a more humane content of Chengdu with commerce.
Steven Lynch (Executive Director of the British Chamber of Commerce in China): I very much agree with the three points mentioned by Alan Beebe. In addition, I think the biggest growth point and the trend now is education. In particular, cooperation with R&D companies and universities is particularly important. We hope to establish a very good educational partnership with universities in Chengdu and tap into more vertically to drive industrial development.
Massimo Bagnasco (Chairman of the European Union Chamber of Commerce in China): For European companies, if they want to expand business opportunities in Chengdu, openness is the key. At present, the openness of local officials is very good. They are always ready, concerned about our needs and matching corresponding measures timely to deal with some problems, especially with some small and medium-sized enterprises, they need customized services to help them find a market, which is why more and more companies are willing to settle in Chengdu. But I think Chengdu may be able to show more of Chengdu's advantages in terms of the natural environment and so on so that everyone can understand Chengdu better.
Zheng Jun (General Manager of Global Information Technology Services Department, IBM Greater China): IBM has been in Chengdu for 26 years. If I give Chengdu a suggestion, I suggest starting from the entire future development, starting from the national and even global markets, and considering the establishment on how to differentiate the ecosystem for competition, use location advantages and existing assets and experiences to create future-oriented, global ecosystem-oriented themes. The government is playing a supporting role in this, establish the theme and ecology, enabling Chengdu on the fast track of development.