Chengdu Tianfu Bio-town: a premier life sciences hub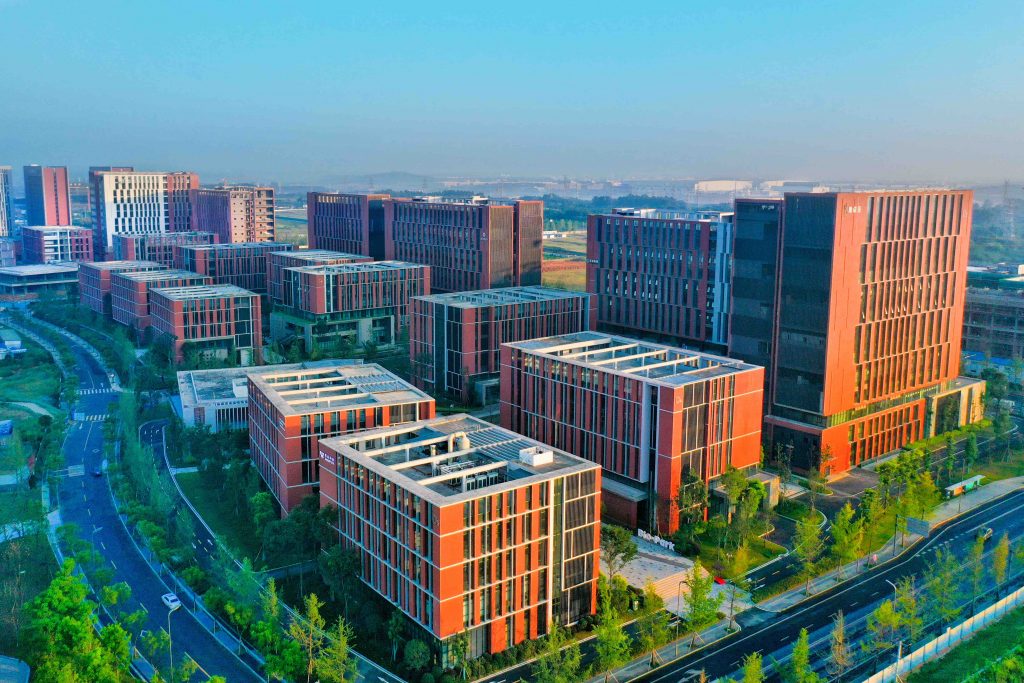 Since its genesis on March 14, 2016, Chengdu Tianfu Bio-town has grown rapidly.
The outbreak of the epidemic has brought many construction projects worldwide to a halt, but not in Chengdu. On July 2, 2020, the Yong'an Blood Production Project finished construction in the Bio-town. Started in 2018, it was one of Bio-Town's first projects. With ambitions to become Asia's largest and most technologically advanced industry base for blood products. Its output value is projected to reach RMB 2.5 billion, and it is set to take a market share of more than 20% in the national market for blood products.
Chengdu's local government has carried out a large number of innovative drug projects, introduced technology, and financial support policies, and continues to build connections for all aspects of the biomedical industry. With the industry becoming more centralized, and top 100 biomedical industrial parks mainly distributed in coastal provinces and cities, Chengdu's Tianfu Bio-town has an important role to play as a premier life science hub in China's southwest.
Capitalizing on momentum
China's biomedical industry began to develop in the 1980s. During the "11th five-year plan" period, three comprehensive biological industry bases took shape in the Yangtze River, Pearl River Delta, and Beijing–Tianjin–Hebei region. In the next decade, biomedicine became a pillar industry of the national economy, integral to China's pursuit of high-quality economic development.
Chengdu's Tianfu Bio-town was the only biomedical industrial park in the southwest region on the 2019 list of biomedical industrial parks that declared over ten Class 1 drugs—innovative drugs containing new chemical entities with the clinical value that have never been marketed anywhere else. Only ten other parks in the nation enjoy this same designation. Chengdu also ranked sixth in competitiveness out of the country's biomedical industrial parks in 2019.
In just four years since its birth, Chengdu's Tianfu Bio-town has launched 150 projects with a total agreed investment of over RMB 110 billion, attracted 5 Nobel Prize teams, 4 national academician teams, and 51 high-level talent teams.
Connecting the innovation ecosystem
As China's inland cities expand, they offer possibilities for the biomedical supply chain. In 2018, the International Pharmaceutical Supply Chain Summit chose Chengdu as its location. "Chengdu is an important strategic node of the One Belt One Road initiative, with location advantages in terms of cost, efficiency, and transportation capacity," says Cai Maisong, Vice President of Sinopharm Group Co., Ltd.
In April 2019, the first batch of medical products produced by Allergan, a multinational pharmaceutical company, cleared customs in Chengdu. It marked the first time that a multinational company chose to clear customs in Chengdu by air and railway, and shows Chengdu's potential as a service provider in the global biomedical supply chain.
In the past year or so, in terms of bringing in the industrial chain, Tianfu Bio-town has landed projects from Luye Group, Nuofeng Pharmaceutical, Silodi, and Nanometer. As for innovation, it has constructed a demonstration base for the transfer and transformation of major new drugs.
Chengdu's local government listens to stakeholders and has continuously provided policy support for biomedical companies.
In 2016, the city issued a special policy on speeding up the development of Chengdu's biopharmaceutical industry", which increased support for R&D of new drugs and medical devices.
In 2017, it established a leading group focused on promoting the pharmaceutical and health industry.
In April 2020, Chengdu Hi-tech Industrial Development Zone issued several policies to promote the development of the bio-industry ecosystem and make it more competitive.
Making innovation easy
Biopharmaceutical enterprises have long had to shoulder the dual risks of high investment and long return periods. Tianfu Bio-town allows businesses access to a "one-stop shop" that includes target discovery, drug screening, pharmaceutical research, safety evaluation, effectiveness evaluation, clinical trials, and pilot upscaling.
When it comes to financial products, Chengdu Hi-tech Industrial Development Zone has set up the country's first "international biomedical insurance supermarket", which has integrated the whole chain of domestic and foreign bio-industry insurance products to make procuring insurance convenient for companies.
On this basis, the city has set aside 2 million square meters for scientific and technological innovation. It has built a 600,000 square meter bio-industry incubator that meets the design requirements of good manufacturing practice standards. In addition, it has introduced the Chengdu pilot DNA-coding compound screening platform, the Huaxi Haiqi new drug safety evaluation center, and the ConMed Antibody Pilot Production Platform.
Delivering world-class innovation
Tianfu Bio-town is committed to supporting researchers in their clinical experiments. The Institute of Biomedicine International Parallel Laboratory is headed by Academician Wei Yuquan. It brings together experts from the biomedical industry and takes mRNA, CAR-T cells, stem cells, and cell vaccines as core fields for which it will create an integrated and automated biotherapy R&D, pilot test, transformation, and incubation platform in China.
Chengdu is also home to HitGen, the first company based in the southwest to list on Shanghai's STAR Market.  Established in 2012 by Dr. Li Jin, who was a fellow of the Royal Society of Chemistry, it has one of the world's largest DNA-encoded small-molecule compound libraries and leveraged these to create new drugs that have advanced to clinical trials. HitGen has also contributed to explorations and rapid application of this technology.
Easton Pharma. is mainly engaged in the research and development, production, and sales of chemical raw materials and chemical-pharmaceutical preparations. It has also chosen Chengdu as its headquarters. The company has successfully industrialized 16 pharma products and 11 raw material products. The products cover key areas such as anti-tumor, cardiovascular, digestion, anesthesia and analgesia, and medicine for children.
In keeping with the trend of industrial globalization, Tianfu Bio-town is moving towards taking an increasingly global role in biomedical innovation. Continuously introducing and cultivating projects that have huge potential markets, it seeks to promote best practices at a national and even global level. Tianfu Bio-town is committed to advancing discoveries that improve our lives and nurturing innovation.