The long-term friendship between IBM and Chengdu Hi-Tech Zone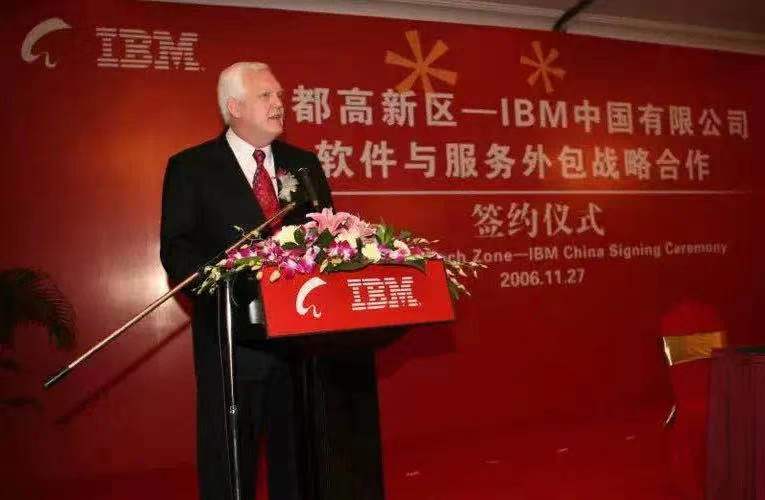 When it comes to century-old technology companies, IBM is definitely on the list. From commercial typewriters to electronic computers to information technology, IBM has always been the pioneer, even more so in the computer industry. The success of IBM in large and minicomputers and laptops (ThinkPad) is the most popular worldwide. The personal computer (PC) standard it has created is still being used and developed until today. In 2004, IBM sold its personal computer business to the Chinese computer manufacturer Lenovo Group, which officially marked a comprehensive transformation from a "massive" product business to a "high-value" business.
In fact, IBM and China went way back. As early as 1934, IBM installed the first commercial processor for Peking Union Medical College Hospital. In 1936, IBM set up an office in Shanghai, laying the foundation for its development in China and the entire East Asia region. In 1937, the first overseas call in China was made from the IBM Shanghai office, opening up a new way for China to connect with the world.
In addition to Beijing and Shanghai, IBM is fond of another national central city in western China—Chengdu, Sichuan. Over the years, IBM's frequent actions in Sichuan shows that it attaches great importance to the Chengdu area of ​​Sichuan with its ambition to expand into domestic businesses.
In Chengdu for more than ten years
In 2006, IBM China Co., Ltd. signed software and service outsourcing strategic cooperation agreement with Chengdu Hi-Tech Zone and established Chengdu IBM Global Service Execution Center in Tianfu Software Park to provide application system services to Chinese and global customers. This move is regarded by IBM as an "important milestone in the expansion of the Southwest China market". IBM hopes to take this as a step and join hands with Chengdu to build a "world innovation capital".
A year later, IBM announced the official completion of the IBM China Chengdu Global Service Execution Center. According to the strategic cooperation agreement signed with Chengdu Hi-Tech Zone in November last year, through cooperation with the Chengdu municipal government and universities, IBM China Chengdu Global Service Execution Center successfully recruited new employees with IT development and basic language skills. Not only for Japan, the United States, and Europe, IBM also develops application system services with customers in the Asia-Pacific region, including application system development, operation, and maintenance services. At the same time, it also supports IBM's global procurement center in Shenzhen and assists in promoting the global integration strategy of IBM's supply chain management.
Erik Bush, Executive Vice President of IBM Global Application Services, said: "China is a core component of IBM's global service execution network. The establishment of IBM China Chengdu Global Service Execution Center has not only enhanced IBM's ability to provide high-value and cost-effective IT outsourcing services, but its capabilities have also further expanded the IBM global service execution network and enabled China to play an increasingly important role in the IBM global service execution network."
For Sichuan, the 2008 Wenchuan earthquake was a painful memory that cannot be forgotten. During that period, it also received love and help from all over the world, including IBM. In 2008, IBM established the Corporate Service Corps (Corporate Service Corps, CSC) to select outstanding employees from all over the world to participate in cross-regional and cross-border social service projects in the form of voluntary service free for local communities with much-needed professional skills and services. In April 2009, the first volunteer service team dispatched by IBM CSC to China came to Chengdu to serve the developmental construction work in the disaster area after the Wenchuan earthquake. On May 7, 2018, the 40th service team sent by IBM CSC to China came to Chengdu again. The 13 members of the service team were deeply involved in the three themes of "Community Development Governance, Youth Maker Training, and Innovation in Helping the Disabled" to help the locals with social and economic development in terms of top-level design, tool innovation, product optimization, and ability training.
Besides its own planning and strategies, IBM has conducted many research and development cooperation with local enterprises in Sichuan, as well as many interesting technical pilots. For example, in June 2015, IBM, Chengdu Ximentech Technology Development Co., Ltd., and China Power Construction Group announced that they would work together to build China's first open source-led power energy cloud platform-Power Construction Cloud, and explore "Internet +". The new service method promotes the digital management process of China Power Construction and the integration of the power energy industry industrial chain.
Despite being an established tech company, IBM is still trying new ways to improve. "IBM Chengdu Branch is the headquarters of IBM Greater West Region and the fulcrum for IBM's expansion in Western China," said Liu Wenchao, general manager of IBM Greater West Region. Since its official establishment, IBM Chengdu Branch has been paying close attention to the economic and social development of Sichuan and Southwest China and has actively participated in the construction of the local information industry. Under the influence of China's western development policy, IBM launched the "Greater Western Region" strategic plan, integrated the business in the northwestern region of Southwest China, made Chengdu the headquarters of Western China, invested more resources, and further enhanced IBM's research and development capabilities in the western region of China.
Why Chengdu?
As a century-old international company, IBM attaches so much importance to Chengdu, Sichuan, for a reason. As a hub linking the central and western regions, with developed transportation and abundant resources, Chengdu has been known as the "land of abundance" since ancient times. At the same time, it is also an important global electronic information industry base. To date, there are 30 national-level scientific research institutions and 67 national-level R&D platforms in Chengdu. There are 56 colleges and universities with about 3.89 million talents of various types. In 2019, 301 of the world's top 500 companies settled in Chengdu
In 2019, the GDP of Chengdu Hi-Tech Zone has exceeded RMB 220 billion, becoming the first industrial park with a GDP of over 200 billion yuan in Sichuan Province. In 2020, even under the influence of the epidemic, Chengdu Hi-Tech Zone has achieved a GDP of RMB 119.14 billion in the first half of the year, a year-on-year increase of 7%, and the growth rate is higher than that of the provinces and cities in the same period.
In the first half of 2020, the output value of industrial enterprises in the electronic information regulations of Chengdu Hi-Tech Zone was RMB 161.89 billion, an increase of 15.3% year-on-year, and the added value increased by 15.4%. As the basic, strategic, and leading industry of the national economy, the electronic information industry has developed into Chengdu's first pillar industry that is expected to break through trillions.
Under the effect of industrial clusters, the electronic information industry has a solid foundation for further expansion and strengthening. On August 26, 2020, the signing ceremony of major projects for the modernization of the Chengdu electronic information industry chain was held in Beijing. The total investment of the contracted projects reached RMB 25.4 billion. The contracted enterprises include Beijing Eswell Technology Co., Ltd., and other enterprises. IBM will carry out in-depth cooperation with Chengdu Hi-Tech Zone in key core technology areas such as advanced computing, advanced semiconductors, high-end packaging, and new-generation displays.
"At present, Chengdu has formed a full industrial chain from integrated circuits, new displays, complete machine manufacturing to software services, and is focusing on 'one core, one screen' to break through cluster development." said the representative of the Chengdu Economic and Information Bureau. Based on the current industrial scale and development trend, Chengdu is confident of achieving its first trillion-level industrial goal.
In the ranking of cities with inflow population in 2019 released by DT Finance and Unicom Big Data, Chengdu surpassed Beijing and Guangzhou to be ranked third, second only to Shanghai and Dongguan. According to statistics from the Chengdu Bureau of Statistics, in 2018 alone, the registered population of Chengdu increased by about 407,200 over the previous year, which is equivalent to two new small cities. Among them, a considerable number of high-tech talents settled in the high-tech zone.
In recent years, with the development of 5G technology and Internet of Things (IoT) technology, the electronic information industry is undergoing upgrades and reforms. As a practitioner of the "13th Five-Year Plan", Chengdu has taken the lead in the layout and planning of 5G, which is crucial and attractive for technological innovation companies in the industry. As such, it is of good timing and with confidence that IBM chose to settle in the Chengdu Hi-Tech Zone. Hopefully in the near future, under the joint promotion of policy and technological atmosphere in Chengdu, more tech innovation will be invented.