More than 1,000 global cloud development projects in 15 years, the future of SAP is in Chengdu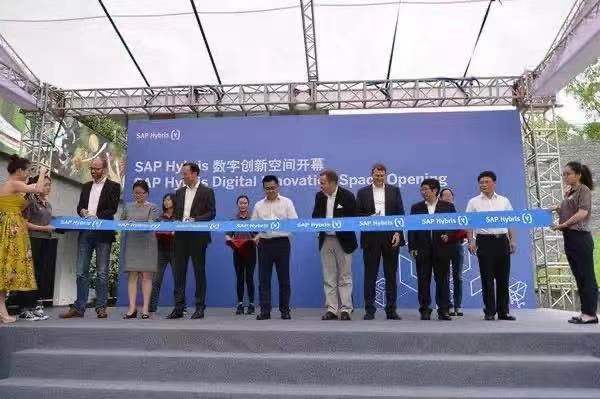 At the World Internet Conference last year, the anti-epidemic products led by SAP, a German software giant, stood out among 14 other selected leading enterprises such as Tencent, Alibaba, Baidu, Microsoft, Qualcomm, and Kaspersky, in the most leading technology achievements of the year. This achievement has demonstrated the huge potential of China-Germany cooperation in the digital economy and green development.
Founded in 1972, SAP is a pioneer in the global enterprise application and software market, a European technology leader, and one of the global cloud business leaders. This year marks the 25th anniversary of SAP's entry into China. SAP CEO Meng Dingming once said in an interview, "China, for us, is like the jewel on the crown, it is our fastest-growing market in the world."
In 2006, SAP established a China Technical Service Center in Tianfu Software Park, Chengdu Hi-Tech Zone, to provide technical support and services for the development and promotion of enterprise management software. It is reported that SAP is the first world-class enterprise management software company to be introduced in Chengdu.
In that same year, SAP Chengdu Research Institute was established in Chengdu Hi-Tech Zone. This is also the second research institute established by SAP in China, covering sales, pre-sales, partner services, customer support, and other departments, serving more than 700 local companies.
In 2012, SAP announced its transformation into a cloud company, shifting all its product line to the cloud. As the core department of SAP's global R&D, the R&D base in Chengdu Hi-Tech Zone was chosen as the cloud service center, putting Chengdu at a pivotal position in the global strategy of SAP.
Wang Tianyang, the vice president of SAP, once said that the cloud computing industry in Chengdu was among the first to be developed and has been developed rapidly. SAP provides various support services for global "cloud users" through the cloud service center in Chengdu. "When companies encounter problems, we don't need to go to the front line, we can support them remotely through the "cloud" technology in Chengdu."
Wang Tianyang also acknowledged that the development level of cloud computing in Chengdu is in a leading position in the country in terms of infrastructure construction, networks, and data.
The first SAP Digital Innovation Space in Chengdu
In 2016, the first SAP Digital Innovation Space (SAP Hybris) in the world was established in Chengdu Hi-Tech Zone. With the opening of SAP Hybris, Chengdu Tianfu Software Park has further consolidated its position as an international innovation center and attracted more talents to Chengdu. In addition, the establishment of SAP Hybris has helped Chengdu Tianfu Software Park to further develop into a technological innovation community and creative hub, helping enterprises achieve an innovative breakthrough in their business development.
In January 2019, SAP announced its "China Acceleration Plan" to increase investment in the Chinese market in the next five years, including building a new ecosystem, deepening the market for small and medium-sized enterprises, and increasing investment in talents and facilities. In that year, SAP has opened branches in Jinan, Chengdu, and Wuhan.
In the 15 years since its establishment in Chengdu Hi-Tech Zone, SAP has established a branch and a research institute in Chengdu, with a total of 450 R&D and business employees. The SAP Global Cloud Service Center in Chengdu has delivered more than 1,000 global cloud development projects to 700 customers worldwide.
Currently, SAP's main projects in Sichuan include electronic information, equipment manufacturing, food and beverage, energy and chemical engineering, life sciences, and smart manufacturing. Its partners include Changhong Group, Dongfang Electric, and Wuliangye.
As the largest technology company in Europe and one of the world's largest providers of corporate management, business solutions, and cloud services, SAP is actively promoting the industrial 4.0 and digital transformation of Chinese companies. The cooperation projects between SAP and China have been selected and signed by the leaders of the two countries. SAP is working hard to become a working model of Sino-German cooperation as well as Sino-European cooperation.
In September 2020, Premier Li Keqiang visited SAP China Research Institute, visited SAP's innovation exhibition, and listened to reports on SAP's business development in China in recent years. He believed that a country's manufacturing industry needs to be expanded and upgraded to improve its level and achieve mutual benefit and a win-win situation through openness and cooperation.
On October 20, 2020, the National Development and Reform Commission proposed to promote the establishment of a strong domestic market and expand the scope of foreign investment. The Sichuan Provincial Party Committee and the Provincial Government proposed "forward-looking thinking" in the formulation of the "14th Five-Year Plan" of Sichuan Province, focusing on industrial development, science, and technology innovation, regional coordination, and people's livelihood protection.
In the next step, SAP will continue to use the R&D advantages of SAP Chengdu Research Institute, the strong advantages of SAP's cloud technology and services and ecological partners, and its cooperation with Changhong Group and Wuliangye Group, to push the industrial transformation and upgrading of Sichuan Province in its digital economy industry to strengthen the domestic and regional industrial and supply chains in Sichuan Province.
Through the cooperation with Chengdu Hi-Tech Zone, SAP will achieve industrial empowerment, develop more joint innovation and talents, connect capital between enterprises, promote the international coordination of the industrial chain, promote industrial support, and expand the international collaboration between China and Europe.